Whisky & Spirits Festival Hosts Three Hometown Heros
Canmore Uncorked 2019 is quickly approaching! As the festival draws nearer and more partners join this year's roster, we simply can't contain our excitement. The Bow Valley and surrounding areas are home to countless deeply inspiring small businesses, unparalleled food & beverage experiences, and a whole lot of stunning scenery. We are honoured to host makers and creators of all types at Uncorked's many events. An event that we are especially excited about this year is our annual Whiskey & Spirits Festival which will take place on April 26th, 2019. Not only are we looking forward to getting acquainted with Whisky & Spirits vendors from around the province, but we are delighted to celebrate the Bow Valley's local distilleries, as well.
The Bow Valley is home to 3 craft distilleries: RAW, Wild Life, and PARK. Though the 3 are each entirely unique, they all share a few key qualities: a deep-rooted passion for craft spirits, a creative outlook on a formerly unchanging industry, and a love for their surroundings. On top of that, "We distill in the purest place on the planet. We have some of the best drinking water around - glacier fresh. Using high-quality grains, Alberta has some of the best grains in the world for us to tap into locally. I think people should be more aware of how premium what we're making here is" Nicole Mandelman from PARK Distillery in Banff told us. This is a special time and a special place for craft spirits, that's for sure. We spoke to Matt Windmer from Wild Life, Lindsay Smylie from RAW, and Nicole Mandelman from PARK to learn more about each of the local distilleries and what they will be bringing to the table for this year's Canmore Uncorked Whisky & Spirits festival.
RAW Distillery's spirits encapsulate the rugged yet beautiful terrain within which they came to be. The focus on "adventurous bold flavours straight from the Rockies" Lindsay told us, "our spirits are sophisticated yet uncomplicated. They're for everyone!" RAW is owned and operated by husband and wife, Brad and Lindsay.
Brad comes from a bootlegging background. He and his grandfather used to trudge into the woods when he was only 12 years old to distill home-made spirits on his great-grandmothers still. Lindsay, on the other hand, comes from a science background but has found herself unexpectedly and overwhelmingly passionate about the world of craft spirits. Consistently experimenting with new botanicals and what they like to call "tasting adventures," RAW Distillery is something you want to keep your eye on.
Having now partnered with BLAKE Canmore, RAW is in the process of moving into their brand new location and, my goodness, to they have bold new adventures in store. "It was 2 years ago at the whisky fest where we met our new partner Norm Flann. Uncorked is an opportunity to bring people together and show off what Canmore has to offer. We're here to complete every adventure with a tasting experience" Lindsay recalls.
So, what can we expect from RAW at this year's Whisky & Spirits festival? "Our full line up will be at the whisky and spirits festival and we will be offering onsite tasting experiences you won't want to miss." If you haven't had a chance to peruse RAW's diverse selection of spirits, we suggest you do. We'd highly recommend their Peppercorn Gin! Expect a fully-stacked selection for RAW and, without a doubt, a creative a memorable tasting experience.

PARK Distillery, located in Banff, was the Bow Valley's first craft distillery. PARK is located in the heart of Banff and is immensely passionate about providing the most premium craft spirits possible. "Just like we eat now - farm to table - it's the exact same idea. People want to know what they're eating and drinking and where it came from. Everything we do is as premium as possible at PARK. We want people to know what they're drinking, nothing is a surprise" Nicole told us. As such, they've tapped into the purest glacial water and 100% local grains and botanicals to maintain the integrity and transparency of each and every bottle they produce.
For their vodka, they use "a very local grain from just outside Calgary called Triticale. Only two vodkas on the planet that use this grain - PARK and another in Australia. Something a little different than those soft white wheat and potato vodkas out there. Triticale is a whole new ball game, it's buttery and sweet, and it's what causes all of the recognition for our vodka." On top of that, their Gin is made using spruce tips right from Canmore.
In addition to local products, PARK is passionate about allowing visitors to take-home an authentically local souvenir. "All about offering something to the people of the bow valley and the tourists who come through. Something local and handmade from start to finish so you can take home a piece of Banff with you."
PARK will be bringing their full lineup of spirits to the Whisky & Spirits festival this year. This includes their Barrel Aged Gin which is aged for two months in an ex-Jack Daniels cask, picking up Caramel and Vanilla notes from the Barrel. In addition, they'll be making Gin & Tonics with your choice of locally-sourced garnishes.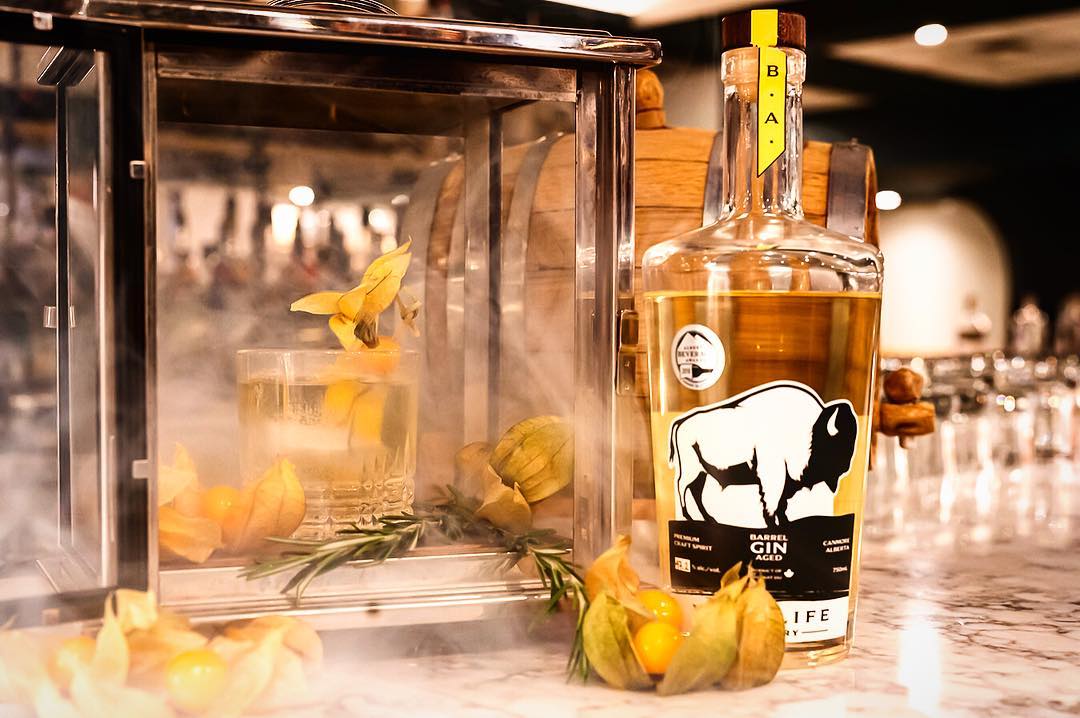 Wild Life Distillery, based in Canmore, was founded upon two main values: quality and authenticity. Matt and Keith, two Canmore locals, focus on clean mountain water, locally sourced grains, and small batch sizes with unwavering attention to detail. "For us, starting this business was about a combination of doing something we love, in the place that we love. Connecting work and lifestyle came naturally to us, as those are the 2 main drivers in our live's. We are proud to call the Bow Valley home, and proud to be able to produce award-winning spirits in such an incredible environment" Matt told us.
Founders, Matt and Keith attended an intensive whisky making course in Scotland where they learned the immersive history of whisk production and countless industry secrets that lie within the tradition. This inspired the two to produce an innovative product while staying true to the tradition.
Wild Life puts forth the opportunity for locals and visitors to connect, to become immersed in a unique Rocky Mountain experience, and to connect with others and with our awe-inspiring natural surroundings.
"We'll be showcasing our Vodka, our Classic Gin, and our Barrel Aged Gin. We will also be bringing our Tonic Syrup which is something a little different that not everyone may know about" Matt explained. On top of that, they plan to bring along some of their Alberta Botanic Gin. This Gin is made exclusively during the summer months, containing 100% locally forged botanicals from the Bow Valley. Some of the ingredients include Juniper, Rosehip, Thistle Flower, Wild Silver Sage, and more. The boys at Wild Life have kindly saved some of this extra special Gin for Uncorked's festival goers and you do not want to miss your chance to sample it.
Whisky & Spirits Festival 2019
The future of craft spirits is upon us and it could not be a more exciting time. The Bow Valley's three local distilleries all support one another, push one other, and foster an immeasurable community feel. We are delighted to host these three award-winning distilleries (seriously, they've all won countless awards for their spirits!) at this year's event.
Put simply, you can't miss this. Become part of the craft spirits revolution and join us for this year's Whisky & Spirits Festival, April 26th.